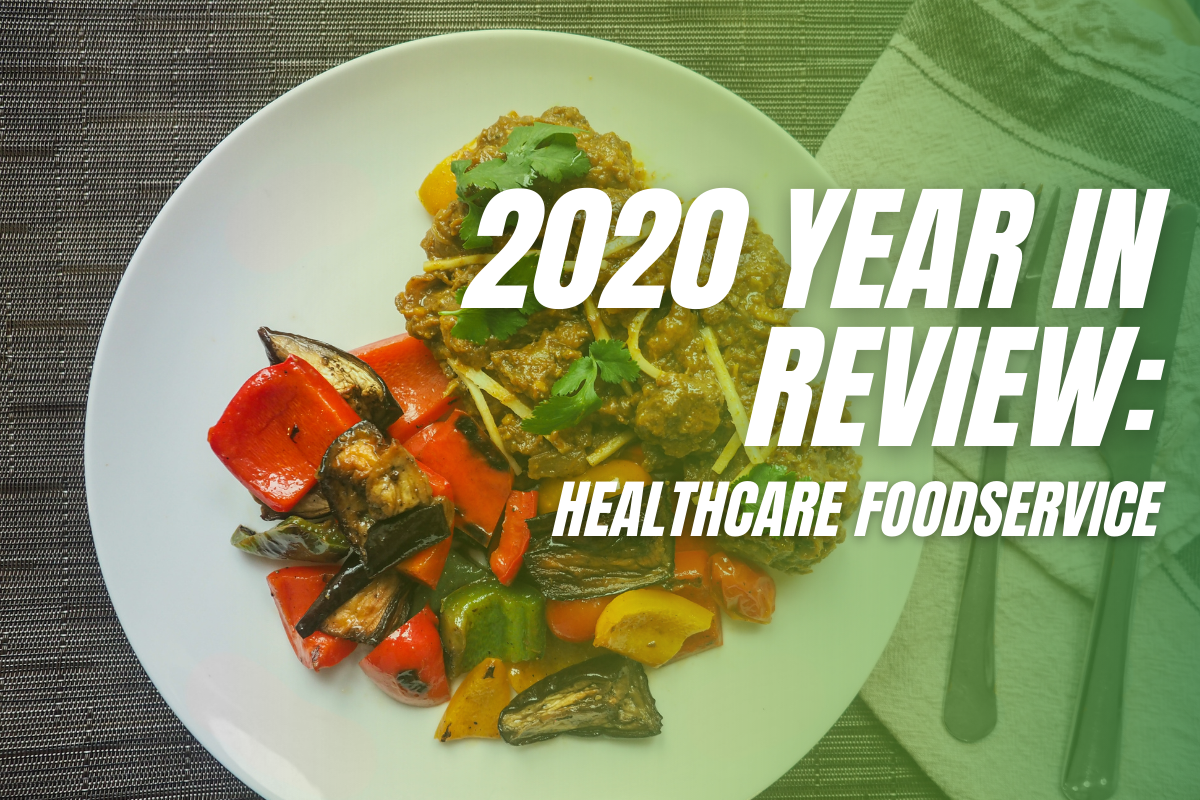 Here are the highlights of our healthcare foodservice blogs from this year.
In the face of a global pandemic, we saw healthcare systems pushed to their limits. As we adapted to this new environment in 2020, we saw a change in how healthcare foodservice is handled, from delivery to sanitation to everything in between. Not only were these new solutions designed to keep patients safe, but healthcare staff safe as well.
Here are the highlights of what we saw transpire in healthcare foodservice this year:
1. The Future of Healthcare Foodservice in the COVID Era
Hospital and healthcare dining have been greatly impacted by the coronavirus pandemic. To summarize the situation, the most profitable types of foodservice delivery have been limited, and higher patient censuses cannot make up for the difference.
With a focus on minimal contact, technology will play a key role in not just food ordering and delivery, but also in food production. Robotics will become more popular in a contact-less environment, as will sustainably packing for individually wrapped foods.
Along those same lines, buffets and self-serve options will become all but obsolete. A complete rethinking of foodservice delivery methods will continue into 2021. But that's not all you can expect to see as we look to the future of healthcare foodservice.
2. The State of Healthcare Foodservice
Hospitals in the United States see as many as 36.4 million admissions every year, and that number will most certainly rise for 2020. For patients and families who spend more than a just few hours in a hospital, chances are they will end up eating at least one meal courtesy of a hospital foodservice operator. In fact, those foodservice operations generate a significant amount of income for a hospital. With the Coronavirus pandemic limiting both visitor and staff numbers, those profit centers have taken a hit.
In the most recent Healthcare Census, detailing various aspects of the hospital foodservice sector, there were four important findings on the state of healthcare foodservice. While the report was done prior to COVID-19, there are some signs that point to where the state of healthcare foodservice is headed.
3. How Healthcare Foodservice Leaders Are Responding in 2020
Since being prepared is key to any good action plan, a lot of pressure was placed on healthcare foodservice leaders to develop an unexpected pandemic response plan. Many have prepared for emergencies like fires, tornadoes, hurricanes, or mass shootings, but a pandemic was not on the list for the near future. Nonetheless, they stepped up to the plate and knocked it out of the park with response plans created to anticipate the worst, respond immediately, and adapt to the inevitable changes to come.
Circumstances differ from hospital to hospital due to location and outbreak, but food service leaders are working hard to keep providing food to patients and staff. Whether it's new responsibilities, different scenarios, or once-in-a-lifetime situations, these folks are responding to the challenges.
4. The Impacts of Robotics in Health Care
In order to deal with the reality of a constantly evolving, and sometimes unpredictable landscape, the healthcare industry has leaned heavily on the technological advancements of today, particularly through the use of robotics and artificial intelligence.
Twenty-first-century healthcare has improved through these advancements, tapping into the potential of delivering quality care like never before. In a field that is overworked and in many cases understaffed, these new technologies are improving hospitals and care facilities all over the world. And despite some common misconceptions, robotics allow clinicians to spend more time with patients, improving care, accuracy, and accessibility.
5. Did Someone Order Delivery? In-Room Service Gains Traction
The limitations and closures of gathering points in hospitals due to COVID-19 have impacted in-room service. However, special attention to in-room service was gaining traction well before the pandemic began. Doctors have always said food can be more than fuel for your body, and with the right nutrients, it can help in the healing process too.
Some hospitals are using that concept, as well as patient experience, to change the stereotypes of hospital food for the better and improve patient satisfaction. Three healthcare facilities in particular that have started to take a more hospitality-inspired approach to in-room service are UCLA, Johns Hopkins, and St. Jude Children's Hospital.
For a full list of all the available COVID-19 product solutions from Lakeside, download our COVID-19 Solutions Guide.