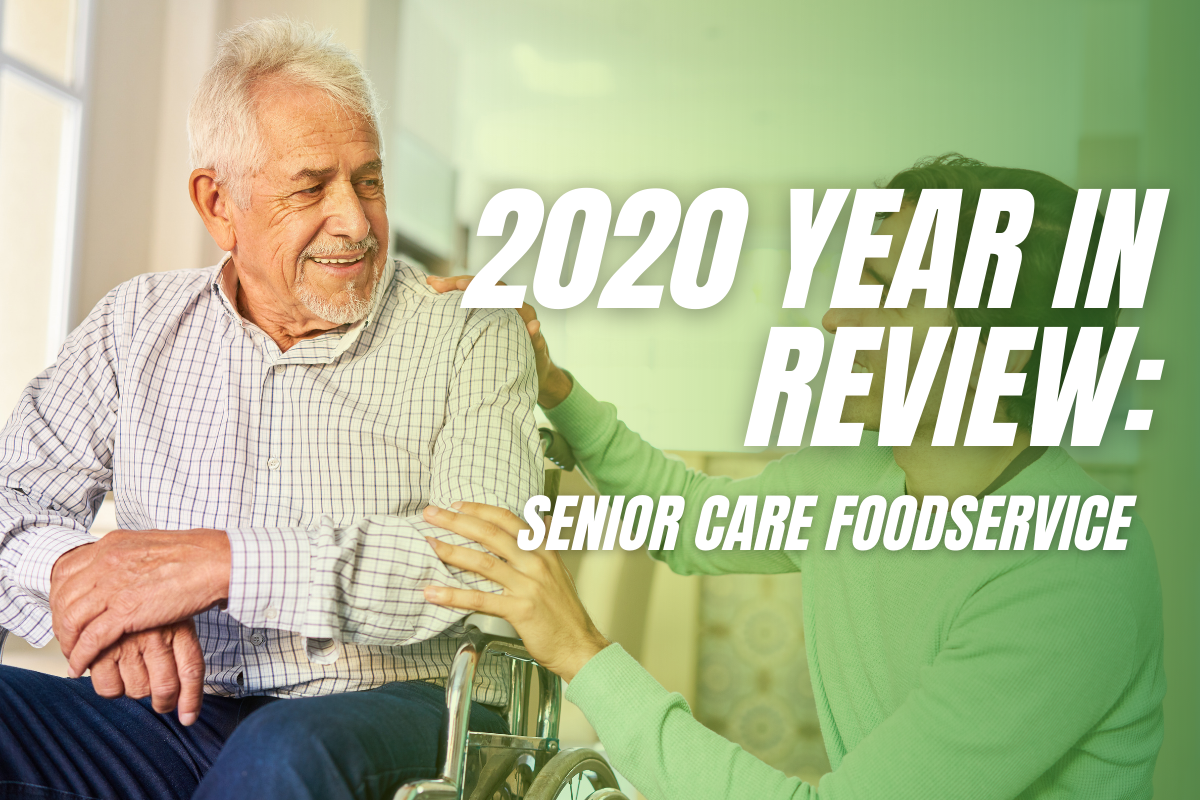 Here are the highlights of our senior care foodservice blogs from this year.
Senior care facilities were put on high alert early on during the Coronavirus pandemic. With residents at a higher risk than most, it has been vital for senior care staff to continue to deliver necessary foodservice safely. Meal delivery during COVID-19 has never been as important, and with the right tools, it was being done in a safe, effective manner. The changes we saw over the course of 2020 will no doubt impact how senior care foodservice is handled as we embark on the new year.
Here are the biggest takeaways of the significant changes we witnessed in senior care foodservice in 2020.
1. Senior Care Meal Delivery in the Age of COVID-19
As we've seen over the recent months, COVID-19 can have horrific effects on the residents and staff in senior care communities. In part, this is likely due to the fact the disease has harsher impacts on our older population. It is also likely attributed to the close quarters in which everyone lives in senior care and long term communities. This means it's even more important to make sure meal preparation and delivery are completed with care.
The Centers for Medicare and Medicaid Services (CMS) have issued new guidelines for these types of operations due to the onset of the coronavirus. It puts critical limitations on visitors and personnel who have access to senior and long-term care communities in order to help shield residents from potential infection.
2. Essential Equipment and Supplies for Senior Care Meal Service
Senior meal deliveries vary across care facilities based on the mobility and health of each resident. While some of these practices have been in place for some senior care homes, having options and a variety is a part of senior care. With the COVID-19 outbreak happening across the nation, there are new practices that your home will have to consider in order to continue providing a healthy menu with options while serving these residents safely.
From in-room dining, transitioning away from buffet-style, or hydration, these solutions can help set up senior care facilities for success both during and post-pandemic.
3. Sanitation Tips in Senior and Long-term Care Communities
COVID-19 has taken a toll across cities, states, and nations. As it continues to spread and change the way we view day to day life, understanding the best ways to sanitize equipment, ourselves, and the places we spend our time at is critical.
While many cities are on lockdown to try to prevent the rapid spread, we must do our part, too. That means protecting our well-being, as well as those around us, by following sanitization tips. The elderly seem to be at the greatest risk when it comes to COVID-19, so how can senior care communities help protect their guests?
4. How Senior Care Dining Impacts Mental Health
There's no doubting the fact people love food. We love the way it tastes, the way it feels in our mouth, the way it nourishes us. We love the socialization that usually comes with food. Dining is an experience. And most important, it's good for our mental health. Nowhere is this more true than in our senior care and long-term care communities.
According to one study on senior care and foodservice, the three themes that impact a resident's experience were emotional and psychological connections with other residents, managing competing interests with limited resources, and familiarity and routine. Food and meals touch on all three.
Today, of course, we're living in an entirely different world. The processes by which food is served in these types of communities have been turned upside down, and foodservice directors are doing whatever they can to help residents still achieve the three points above, the points that are so critical to the mental health and well-being of our seniors living in these communities.
5. A Step-by-Step Look at Senior Care In-Room Meal Delivery
As we continue to navigate the world of COVID-19, we're seeing changes in the ways foodservice is delivered. Nowhere is this more important than in senior care and long-term care communities.
It's now common knowledge that older populations are the most vulnerable demographic, and new regulations have been devised to help protect them. One of the most important is to move dining service from dining rooms and common spaces, opting instead for personal, in-room delivery.
From prep to presentation, take a step-by-step look at what it takes to provide this level of service using the SuzyQ meal delivery system from Lakeside.
For a full list of all the available COVID-19 product solutions from Lakeside, download our COVID-19 Solutions Guide for Senior Care.