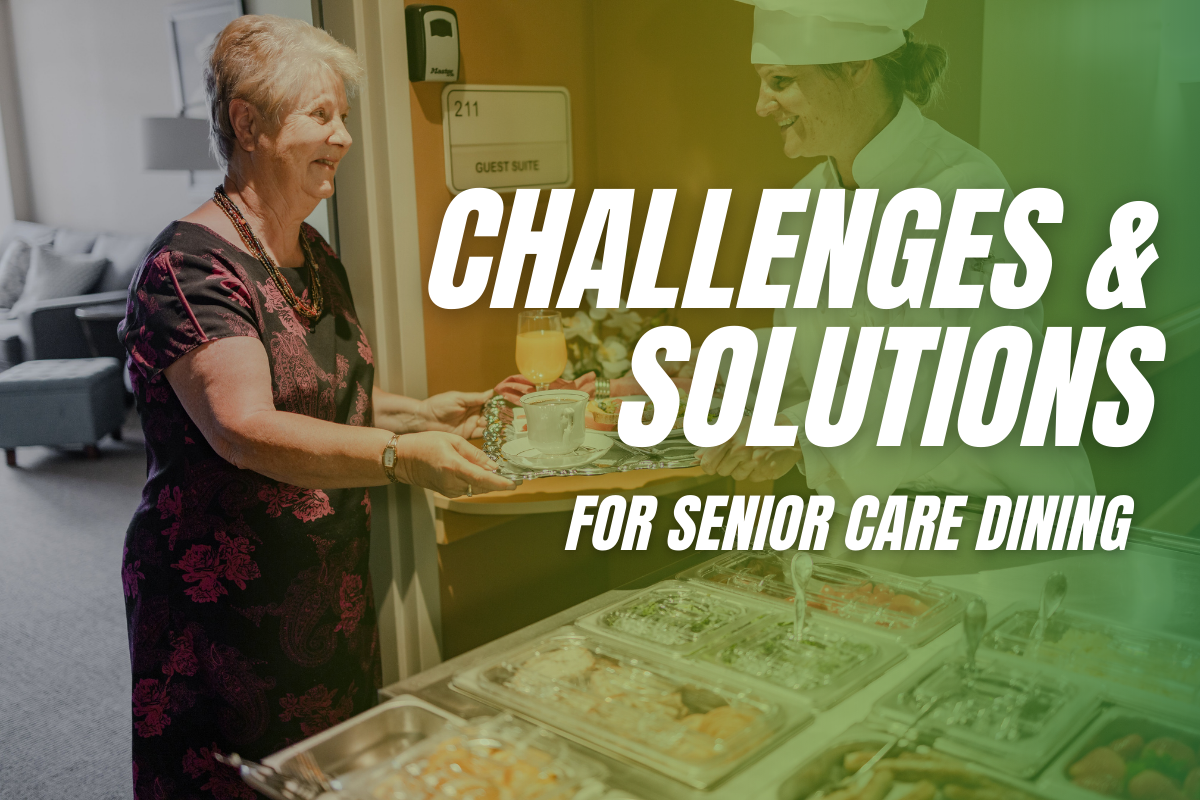 There are several key challenges senior care foodservice directors face. Some of these challenges are day-to-day in their nature, while others are more macro, focusing on the bigger picture. Let's run through a few of these challenges and solutions.
BUDGETS
Tight budgets are common. In fact, directors tend to have about 10 dollars to feed a resident three meals and two snacks per day. If you're in senior care or nursing home foodservice, you know it's important to master the skill of doing a lot with a little.
COLD FOOD
Whether you're transporting food from the kitchen to the dining room or even directly to a resident's bedside, maintaining proper food temperature is always a struggle in senior care foodservice.
HIGH FOOD WASTE
We waste a lot of food. In fact, studies show as much as 50 percent of the world's food supply is wasted. In senior care foodservice, this is also an issue. From residents who throw away food they were served but didn't want to discarding the cold dishes mentioned above, food waste is the same as wasting money.
POOR CUSTOMER SERVICE
Meal times are some of the most enjoyable for senior care community residents. Staff should recognize this, and provide the type of service that makes residents happy.
LACK OF TEAMWORK
When staff communicate with one another, it's easier to pinpoint potential issues in foodservice. Setting up a culture of sharing is a great way to combat this.
HIGH STAFF TURNOVER
These last three are all related. A disjointed team that provides poor service will most often be a staff that sees high turnover. Likewise, high turnover can lead to a lack of teamwork and poor service. Everything staffing-related is interconnected.
Meal delivery can make all the difference.
There are essentially two common ways to provide meal service. The first is with trays. Trays are very institutionalized. We don't eat on a tray in our own homes, so using them in a senior care community seems a bit out-of-touch. Senior care residences are not intended for acute care, where trays are acceptable. Senior care residences are homes where people live.
The second mode is pre-plating. Similar to a restaurant, the plating is completed in the back-of-the-house with lists and tickets. Staff run plates back and forth from the kitchen and the dining room, making this what we call the "throw and go" method
The best way to deliver food is with mobile meal service.
Mobile meal delivery carts allow operators to bring fresh options and meal choice directly to the table or to a resident's room. This way is the future of senior care dining as more and more directors realize the benefits.
Mobile meal delivery can eliminate cold food and food waste by allowing residents to hand-select what they want for dinner. It promotes interaction with staff and builds a sense of connection and teamwork. And, they're certainly great for an operation's bottom line.
Lakeside is here to help you improve your senior care dining experience. The Suzy Q cart is the ideal solution for providing a person-centered dining environment for senior care communities!